PET strapping is mostly used in fully automatized or semi-automatized facilities (brick factories, prefabricate production, fiberboard production etc.) to secure heavier materials. PET strapping has numerous advantages in comparison with Steel banding. It is capable of replacing Steel banding in a wide range of its usage and represents a safer alternative to it.

In comparison with steel bandings

they have
• an increased shock tolerance
• elastic memory
• lower weight
• resistance to weather condition and corrosion

they lack
• sharp edges
• a hazardous recoil when cutting

They are joined mostly by welding (machine strapping), less often by means of a wire buckle (manual strapping).

PET
extruded polyester strapping

Copyright© PUTO s.r.o. |
Tvorba web stránok

| | | | | |
| --- | --- | --- | --- | --- |
| Strapping type | Width | Break point | Coil length | Tube diameter |
| PET 2200 | 9,5 mm | 2 200 N | 3 200 m | 406 mm |
| PET 1254Z40U | 12,5 mm | 2 300 N | 2 500 m | 406 mm |
| PET 260Z40U | 12 mm | 2 400 N | 2 500 m | 406 mm |
| PET 2500 | 12,3 mm | 2 500 N | 2 500 m | 406 mm |
| PET 3100 | 12,3 mm | 3 100 N | 2 500 m | 406 mm |
| PET 1580Z40U | 15 mm | 4 800 N | 1 400 m | 406 mm |
| PET 4800 | 15 mm | 4 800 N | 1 750 m | 406 mm |
| PET 5200 | 15 mm | 5 200 N | 1 400 m | 406 mm |
| PET 1910Z40U | 19 mm | 8 200 N | 1 000 m | 406 mm |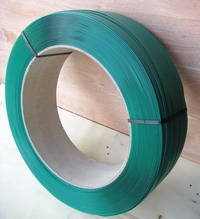 Polyester woven
strapping
in standard and non-standard renditions
PRODUCTS